UPCOMING EVENTS AND CONCERTS---------------->Click here...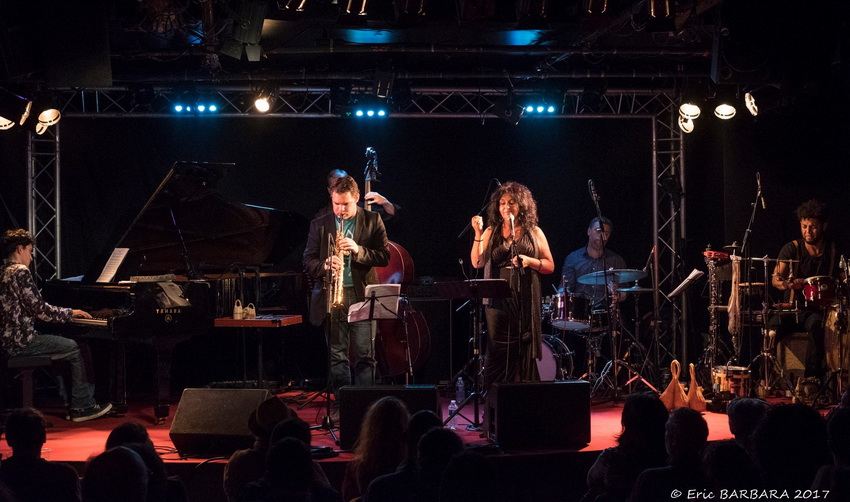 In various live band setups ranging from duet to sextet, Manu Le Prince tours extensively in France as in other countries such as Brazil (Sao Paulo, Brasilia, Rio), Greece, Turkey, Morocco, Swiss, Belgium, Italy. Emirates (Abu Dhabi), Lebanon (Beyrouth)
In Paris she performs regularly in Paris's top jazz concert venues : the New Morning, the Petit Journal Montparnasse, the Sunside and Sunset, the Duc des Lombards, the Bilboquet, l'Arbuci, as well as the Casino d'Enghien. She regularly sings in the rest of the country in theatres, public cultural centers and several Jazz Festivals.
Alongside her current repertoire of jazz & Brazilian songs and her own compositions, she also performs occasionally in special tribute concerts dedicated to her favourite song writers Tom Jobim, Cole Porter, Johnny Alf.

Since 2000, Manu has been travelling regularly to Brasil Rio, Penedo, São Paulo, Salvador Brasilia...), in SESCs -State Theatres- São Paulo - Pinheiros, Belenzinho, Vila Mariana, Santana and also in legendary "Bossa Nova Clubs"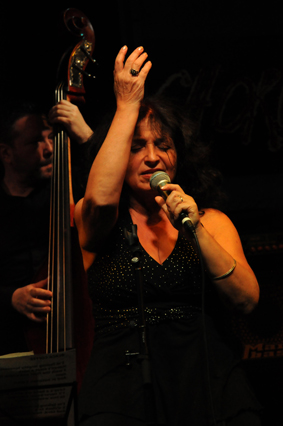 like the Vinicius or the Beco das Garrafas in Rio de Janeiro, with a great team of professionals brazilian musicians, as Idriss Boudrioua's sextet with her Tribute to Johnny Alf, great brazilian composer and pioneer of the bossa nova, recorded in Rio in 2013.
Manu is presently presenting her new project "In a Latin Mood", recorded in Paris this year in Brazil - 2017/2018.
The Showcase will be at the New Morning on he 26th of october 2017, part of the Festival Jazz Sur Seine,with the wonderful team of the album, such as Gregory Privat, Baptiste Herbin and a lot of guests, as Giovanni Mirabassi
Alongside her usual concert repertoire which contains music from her Madrugada album, with both original titles and covers of well works of Ellington, Tom jobim, d'Edu Lobo, ans musics in cllaboration with Hermeto Pascoal, Manu Le Prince also sings a 40/50 jazz repertoire, as recorded on her last album Tribute to Cole Porter released in 2008.

MAIN FESTIVALS
2017 - Winter Jazz Festival (Penedo RJ- Brasil) American Jazz Festival (Paris- Sunside) Musivales (Jazz en Valois), Jazz- sur- Seine (Paris - New Morning)
2016 - Jazz en Seine (Paris), Jazz en Blues Festival (Julieta - Rio), Winter Jazz Festival (Penedo Brasil), Trofeu do Beco das Garrafas (Rio), Parolimpiadas 2016 (Rio)....
And before:
2015- Festival de Bossa Nova (Thiais), Jazz au Coeur et Guitares à l'Ame (Issy Les Moulineaux), Festival de Jazz de Coulommiers, Penedo Winter Jazz, "Jazz & Blues", (Rio de Janeiro), American Jazz Festival (Paris)....
Festival du Plateau Picard, Grado Jazz Festival/ Italia, Au Sud Du Nord /CC J.Cocteau - Etrechy, Festival Jazz En Boucle (Théâtre de St Maur), Penedo Winter Jazz Festival/ Brasil, Festival Brasil" Carnaval Contramão" - SESC Pinheiros /Brasil (2009), Jazz Festival Ibitipoca /Brasil Penedo Winter Jazz Festival /Brasil American Jazz Festival /Sunside Tabarka Jazz Festival - Tunisie - ( Jazz à l'Ouest/Rennes ) JVC Jazz Festival /Paris Jazz in Marciac Festival Euritmix/Bruxelles American Jazz Festival /Paris Meer Jazz Festival/ Amsterdam...Festival Jazzfamili /Guise, Nancy Jazz Pulsations, Festival de Belo Horizonte/ Brasil,Jazz entre les deux Tours / La Rochelle (2005)Jazz entre les deux Tours / La Rochelle, Festival MPB de Paris, Festival de Sannois/ Django Reinhardt, Jazz a St Germain-des Prés, Jazz à Abu-Dhabi / Emirates, Festival de Xirocourt / Nancy, Jazz in Marciac, Jazz à l'Hospitalet /Narbonne, Jazz à Vienne / Théâtre Antique, Festival de Jazz d'Antalya / Turkey, Festival TSF /Paris, Festival de Jazz de Cuchadaçi / Turkey......
Return to bio