BIOGRAPHY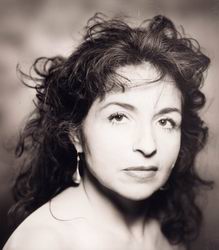 Rocked by the jazz of her childhood (her English mother used to sing her "cheek to cheek" to help her sleep !), Manu started her singing career in London when aged nineteen. Back in France, Manu sang in various bands, "Magma", the famous French jazz-rock setup of legendary Christian Vander, or as a solo soprano vocalist with Urban Sax at the Versailles summit broadcasted live in Eurovision. She also sided with french star singer Bernard Lavilliers at the Olympia in Paris, and performed as singer of the "Boto e Novos Tempos" band, as part of the big "Brasil Stars" show with Chico Buarque, Vinicius Cantuaria etc. From then on, she decided to lead her own band, and after a long stay in Brazil, Manu worked on developing her own musical style and repertoire with original songs with Daniel Goyone, Francis Lockwood, leading to the recording of the album AGORA in 1991. On her numerous stays in Brazil, she met her wonderful friends Hermeto Pascoal, Robertinho Silva and others, and in Paris the great trombonist Raul de Souza. Then, totally in love with brazilian music, Manu sings mostly bossa nova and jazz in France, Europe and Brazil.
Various Musical activities :
Between 1992 and 1996, Manu performes with the big Band "Mister Bouff" all around France in large brazilian events and Carnivals. Brasil Sur Scene" : during all the year 1998 Manu organizes and also takes part in many Brazilian shows, with famous special guests of Paris and renowned brazilian musicians passing through Paris on the Six / Huit Club, on a boat in St Michel (Paris's "quartier latin"). June 98, Manu Le Prince is selected by the Paris transport authority to represent Brazil for the World Cup in four big shows at the Place de la Concorde in Paris.
Since 2004 Manu also teaches and gives many Master Classes, such at the BILL EVANS PIANO ACADEMY in Paris. From 2004 to 2007 , between shows and tours , Manu sings regularly at the ARBUCI JAZZ CLUB in St Germain des Prés and becomes the Artistic Manager of the club until 2007. MANU also performs in private shows such as in Paris the famous writer Paulo Coelho's birthday or the 22nd "Nuit des Molières" (Theatre Awards)....
BRAZIL/ Manu has been touring in Brazil (São Paulo, Rio, Brasilia...) for many years with very performing teams such as Arismar do Espirito Santo, Kiko Continentino, Filo Machado, Sergio Barrozo, Pascoal Mereilles.....
All these years, Manu has recorded several albums - that all had a very good "press" - under her name " and continues performing all over the world, always accompanied by very talented jazz musicians, such as "Agora"(feat. Daniel Goyone & Rosinha de Valença)°,"Madrugada "(feat.Raul de Souza & Hermeto Pascoal), "Tribute to Cole Porter" (feat. Alain Jean Marie, Rhoda Scott & Stéphane Belmondo) and her last project 2018 "In a Latin Mood"(feat. Minino Garay Gregory Privat, Baptiste Herbin....)
In a Latin Mood
10 original compositions In her last album"In a Latin Mood", artistically produced with the famous and original argentinian percussionist Minino Garay, Manu Le Prince called the "cream" of the the the actual parisian jazz scene: the pianists and composers Grégory Privat, Baptiste Trotignon, Giovanni Mirabassi, her son Julian Le Prince Caetano, the accordionist Marc Berthoumieux, and wrote lyrics in french, english and portuguese on their instrumentals .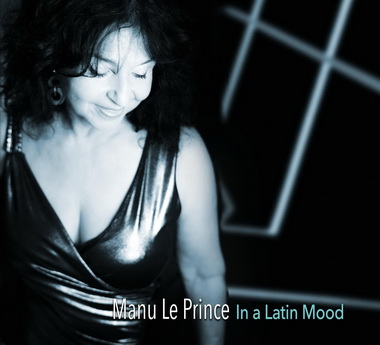 Manu also wrote lyrics on a music of the famous pianist and composer Kenny Baron "Twilight".

Piano : Grégory Privat
Bass : Thomas Bramerie
Drums : Lukmil Perez
Percussions : Minino Garay
Guests:
Giovanni Mirabassi, Julian Le Prince,
Caetano Lalo Zanelli (piano)
Baptiste Herbin (sax)
Raul Mascarenhas (flûte)
Zaza Desiderio Gaël Le Prince Caetano (drums),
David Linx (vocal)
Marc Berthoumieux (accordéon)
Acelino de Paula (basse)


Bossajazz Forever

This tribute to Johnny Alf, has been recorded in Rio de Janeiro em collaboration with the saxophonist and arranger of Johnny Alf, Idriss Boudrioua

"As Brazilians,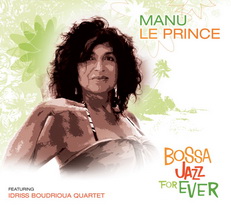 we have hardly been taking care of or culture , and it makes me happier when I see others artists of other countries seeking our music and recording stuff that few people here know or are interested in. It's the case of this great singer Manu Le Prince, whom discovers the music of Johnny Alf, one of the best composers but also the less famous. Manu has had the courage to record the music she chose for its quality and not for its fame.
And thanks to her and her beautiful interpretations, our culture is greatful. Obrigado Manu."
Roberto Menescal
"Manu's intimacy performing Johnny Alf's work, shows a certain level of identification with the sound of the composer. It's a very big privilege to see Johnny's songs cross the seas"
Neslson Valencia (Johnny' producer & friend)
REF : 842 653 - Label SOUS LA VILLE - Distribution SED / SOCADISC
http://www.souslaville.com/manu-le-prince.html
Madrugada
Manu Le Prince records her new album Madrugada in Paris and Rio de Janeiro. Stylistically at the crossroads between Jazz and brazilian music, it features some famous standard songs arranged in her unique way as well as some original compositions, recorded with her current : Francis Lockwood (piano), Carlos Werneck (bass), Tatau Caetano (drums) and Cacau de Queiroz (flute and saxophone).
Manu also invited on her album many of her numerous friends, featuring notably as special guests, Raul de Souza (trombone), Stephane Belmondo (flugelhorn), Luiz Carlos de Paula & Robertinho Silva (percussions) etc.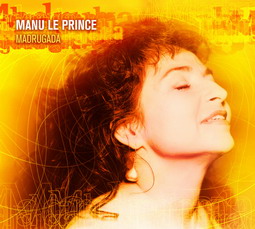 Last but not least the great Hermeto Pascoal himself plays on the album a piano duet "Coraçao", and Manu also wrote lyrics on his famous tune "Bebê".
Celebrating the album release, an important showcase is organized at the Latina Cafe on the Champs Elysees, featuring much of the musicians involved in the recording (October 2003). This event is shortly followed by guest appearances in several radio shows, notably a live performance in the famous program "Le Fou du Roi", on the main French national public radio "France Inter". As one of the twelve most programmed artists on Paris's main private jazz radio "TSF", she is invited in December to perform live at the TSF Jazz Festival in Paris's renowned "New Morning" jazz venue.
All these events are followed by several concerts and festivals. One of Manu's original song on the album, "E bom", co-written with Francis Lockwood, is selected by Air France and broadcasted on all long courier flights throughout November 2004.
In February 2006 the MADRUGADA album undergoes a change in distribution and is re-released through the well known french record label NOCTURNE, with a whole new artwork and featuring an extra track, a really original version of the mythical song Nature Boy. The album receives excellent reviews (see press review)
During all these years Manu tours with her brazilian show in France, Europe, Brazil, Turkey, and also Lebanon, Emirates...

Tribute To Cole Porter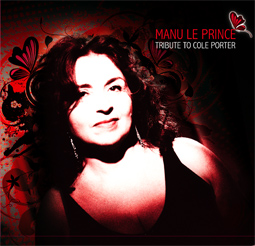 2007-2008 TRIBUTE TO COLE PORTER

During 2007, back to the jazz of her childwood, Manu, who always had a passion for Cole Porter and for the jazz of the early years (30/50) , involves herself in a new project with renowned jazz musicians Alain Jean Marie on piano, bass player Gilles Naturel, John Bestch on drums et Xavier Richardeau on saxophone, a Tribute to Cole that she already perfomed live in Paris (Sunside & Duc de Lombards), and very recently at the last Marciac Jazz Festival.
Her quintet is joined by other friends for the recording of her new album "TRIBUTE TO COLE PORTER", on wich Manu chooses 17 of his most beatiflul songs, with numerous guests like Francis and Didier Lockwood, Stephane Belmondo, Fred Sicart, Patrick Saussois, Pierre Mlmran, Rhoda Scott...The album will be released in october, and on this occasion there will be a show case on the 13th of october during the JVC Jazz Festival at the Sunside in Paris.